RAREfest22: Science. Technology. Arts.Community
An award-winning festival that is as UNIQUE as the people it champions. Featuring the brightest minds in research, the innovators of life-changing technologies, the pioneers in treatments, and those affected whose powerful voices must be heard.
Join us live and in person in the heart of historic Cambridge for RAREfest22, a public-facing, rare disease inspired festival. Immerse yourself in a bustling marketplace of 25 scientific, technological, medical and creative hands on exhibitions. Take a break between exploring exhibits with live talks, panel discussions, monologues, film and even Genomics the Musical!
Did you know that 3.5 million people in the UK live with rare conditions? That's around the population of Wales. Hang on, didn't we say RARE?! Confusing, we know. But with over 10,000 different rare conditions, what may be individually rare becomes collectively common. In fact,1 in 17 of us may be affected by a rare condition at some point in our lifetime.
At RAREfest22 we'll showcase some cool science, research and technology that helps to solve some of the challenges of rare diseases. But most importantly we'll be hearing from some of those affected as well to ponder on:
How do doctors diagnose something they might see once in their career?
What do we understand about the biology of all these different diseases?
What part does innovation and technology like artificial intelligence and CRISPR play in rare disease diagnosis and treatment? Can we drug the undruggable?
As there are treatments for only 5% of all rare conditions, who are supporting the 95% and how?
What do people living with rare conditions want you to know? And what are your questions for them?
And what part is Cambridge playing in the rare revolution?
Are you a person or family affected or perhaps you have a neighbour or friend who is? Maybe you're curious about the world and love to share that with your kids. Are you a researcher based in a lab, a healthcare worker in a busy hospital, a teacher with a class full of inquisitive kids, or a student embarking on their next adventure? Whoever you are we guarantee this will be a fascinating day out, and you'll learn something new that will blow your mind. So come along, bring your friends and family and make a day of it!
For the experts. For the curious. For all ages. For the whole family. For everyone. For FREE.

DISCOVER THE COOL ACTIVITIES EXHIBITORS HAVE LINED UP…
go mutant DNA fishing at the MRC Mitochondrial Biology stand • try your hand at a genetic diagnosis with East Genomics • meet actor and campaigner Adam Pearson & artist Dagmar Bennett as they share their new campaign 'Difference', be a brain surgeon for the day with CRUK, Gilbertson Lab • try scratch n' sniff multi-sensory menus with Sensmart • meet the Cambridge Childrens Hospital team, check out their model of the new hospital and share your views through art activities • peer into bodies to uncover invisible illnesses with Rare Youth Revolution & Cambridge Science Centre • learn how to grow cell lines for research with Horizon Discovery • follow the Illumina DNA map • try out Healx's interactive genetic map • be the first to see the UK launch of 'Days of Rare' photography exhibition with Same but Different • what you think matters…share your views…send a postcard with researchers from Brighton & Sussex Medical School • find out how you can get involved in research with the NIHR Bioresource • meet our friends from Newcastle and learn what they're doing in the world of rare diseases • visit your hospital through your phone with Little Journey
Visit the exhibits here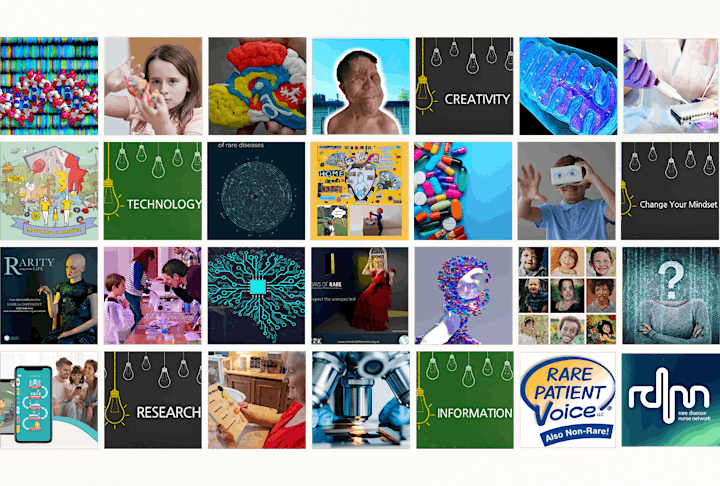 Talks, monologues, panels, music, film
Alongside the hands on exhibits there'll be live talks, panel discussions, monologues, film and event Genomics the Musical! in the Chamber Room (across the corridor from the exhibition hall). Take a break between exploring the exhibits and hear from some of the brightest minds in science, medicine and research, creators of life-changing technology and powerful patient voices which need to be heard.
Check out the live programme and speakers here
Got your tickets for The evening launch of RAREfest22: 'Strictly Rare' An evening to challenge perceptions, dispel myths and imagine the possible. Friday 25th Nov 7-9pm. Same venue, great line-up
19:05 Rare Revolution Youth – Brothers Eddison and Raife Miller host a rare quiz and myth busters session. Fingers on buzzers!
19:35 Unique Feet performance. CamRARE's children and young people's community take to the stage with 'Strictly RARE' . Dancing with joy rarely seen
19:50 Rare entrepreneurs. Channelling joy and talent into business. Dylan Lombard "I may look a bit different but I have something to show the world." Glaswegian teenager Dylan uses photography to connect
20:10 Comedy with Phil 'Badger' SmithLiving with early onset Parkinson's is no joke. But for Phil from Birmingham, 'Laughter is the Best Medicine'.
20:20 An exploration of the possible with John Willis, founder of Power2InspireJohn was born without fully formed arms & legs. He believes that difference is a blessing not a curse.
20:45 Music (news coming soon)
Book your tickets here
Facilities
Car Parking
Disabled Accessibility
Restaurant
WI-FI
Accessibility Facilities
Assistance dogs welcome
Blue Badge Parking
Staff available to assist
Wheel chair accessible